In this post, you'll find answers to the most frequently asked questions about trucks in Euro Truck Simulator 2.
How to Exit a Truck?
Method 1: Walking
To get out of the truck in ETS2, go to the nearest Service and open the Truck Configurator.
Then click on the button with the shoe icon in the bottom right corner.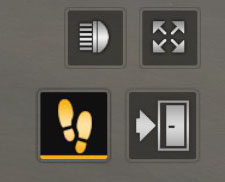 Unfortunately, for now, walking outside the Truck Configurator is not possible. However, you can achieve a similar effect using the method outlined below.
Method 2: Photo Mode
You can initiate Photo Mode anywhere on the map. To activate it, simply press the = key.
In Photo Mode, you can move using the W A S D keys, and adjust up and down with Q and E. There are numerous options available that allow you to create stunning images or simply enjoy observing trucks and landscapes.
How to increase the speed of a Truck?
To increase the maximum speed or improve the acceleration of your truck, you can install more efficient components. The primary factors affecting these attributes are the engine, chassis, and gearbox.
Remember that different trucks offer various available parts. You can find a complete list of maximum speeds and accelerations on this list of fastest Trucks in ETS2.
If your vehicle is too slow, it's possible that the speed limiter is active. If you want to disable it, navigate to ESC -> Options -> Gameplay and uncheck Truck Speed Limiter.
Alternatively, you can also use mods for better engines to achieve even better performance for your truck.
How to lower a Truck?
To adjust the suspension, you first need to bind these parameters in ESC -> Options -> Keys & Buttons. Assign them to keys that are convenient for you; for instance, I've assigned these settings to the numeric keypad.

Then, in the game, use the these keys to raise or lower the suspension.
Here is an example showing standard and lowered front suspension: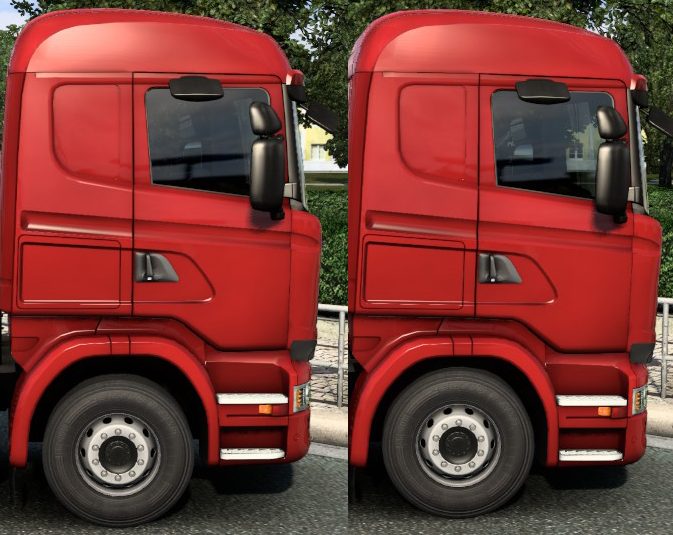 How to Flip a Truck?
If your truck has flipped over, and you're unable to flip it back by steering, you have two options:
Use the Tow To Service option by pressing the F7 key.
Load the latest save made before the accident and restore the game to that state (though this will involve losing progress made after the save point – typically, it will set you back by at least several dozen to several hundred kilometers, depending on when the save was made).
There is no command to easily flip the vehicle, but these two methods are really simple and effective as well.
How to Reset a Truck?
If your truck is stuck somewhere, similarly to flipping it, you can use the option to tow to a service or load a save from before the incident.
If you're not currently delivering a cargo, alternatively, you can also teleport to one of the cities using Quick Travel or to one of your garages.
How to Discover Truck Dealers?
To discover a Truck Dealer, you need to drive near it at least once. Truck Dealers are marked with an icon of a white truck on a purple background on the map.

The simplest way is to check the list of all Truck Dealers in ETS2 and drive to the nearest dealership that interests you to discover it. Also, see the list of all available trucks in the game, categorized by their prices.
Alternatively, you could also use someone else's saved game file where all the dealerships are already discovered, but if you want to enjoy the game, I recommend playing it at your own pace and exploring everything gradually.
How to Change a Truck?
If you have several trucks, it's possible that the one you're driving has become unexciting or just isn't suitable for a particular job.
To change your truck, simply press ESC, go to Truck Manager, select the truck you want to start driving from the list, and press Drive it.