This beginner-friendly guide will help you learn the game and start efficiently, without making costly mistakes.
Completing these steps should take you just a few hours of gameplay, and after finishing them, you'll:
Have your own truck
Have your own trailer and earn decent money from deliveries
Have your game set up for the best possible immersion and comfort (FOV, important custom keybinds, voice navigation, and more)
Understand the essential basics for further comfortable and efficient gameplay.
Let's go!
1. Create your profile
Here's how to do this step-by-step:
1
If you want to create a new profile, go to
Manage Profiles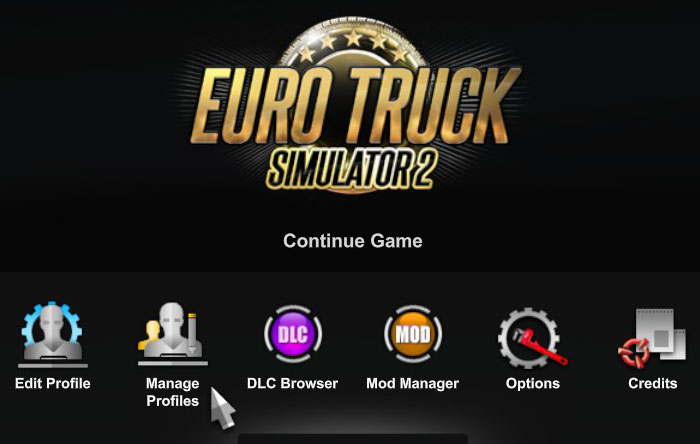 2
Click the
New Profile
button.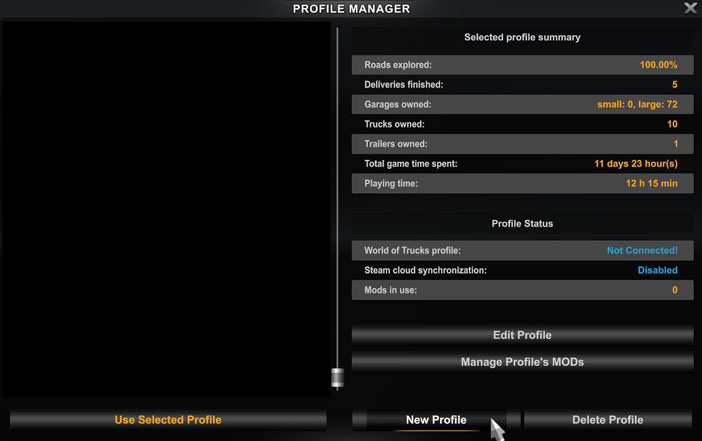 3
Fill in the information.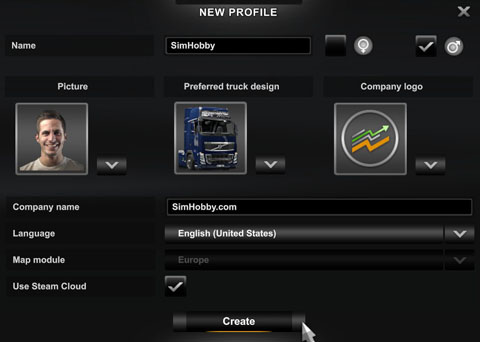 The "Preferred truck design" choice isn't super important, as it will only be assigned to your first job, which will be short anyway.
However, it's a good idea to choose a truck brand you plan to buy first so that you immediately have its dealership unlocked on the map.
For beginners, I recommend choosing the MAN brand. In its cheapest configuration, you can buy one for less than 100,000 euros. It offers extensive upgrade options and the potential to install a powerful 680 HP engine.
4
Select your control method.
Select whether you want to play on keyboard, mouse, or on the controllers (e.g. wheel, joystick, or gamepad).
You can change this setting later, so no worries.
5
Select the gearbox type.
For beginners, I recommend Simple Automatic.
You can also change this later.
2. Select the city
In this step, you need to select the city for your main garage.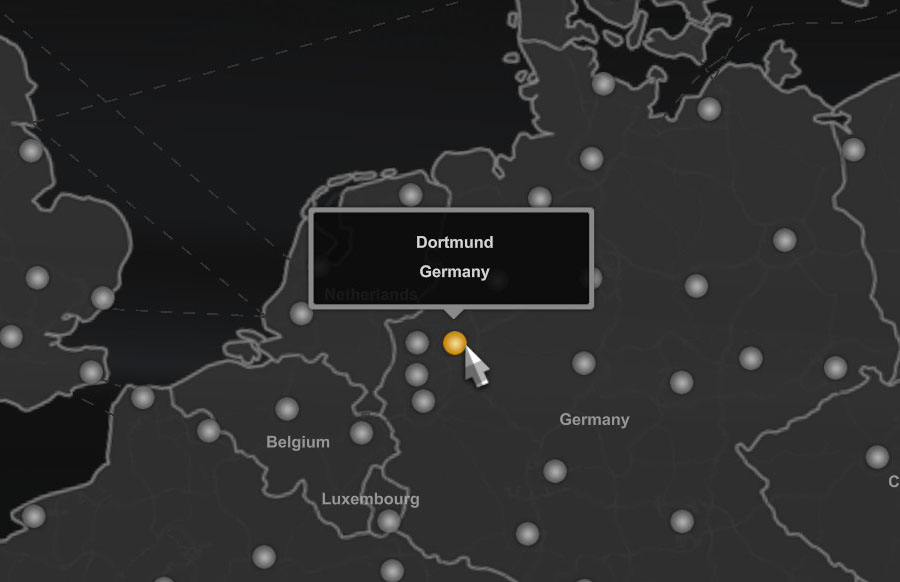 I suggest choosing a garage located in a city you'll frequently visit – maybe because you enjoy its roads or because your friends in multiplayer also have garages there.
If you're a tryhard kind of gamer, pick a garage near a highway in Germany. The differences will be minor, but the highways in that region are very wide and great, so you might complete your initial deliveries a few minutes faster compared to tighter and more occupied areas.
3. Learn the basics
At the beginning, it's worth to run the tutorial that explains the game's basic functions.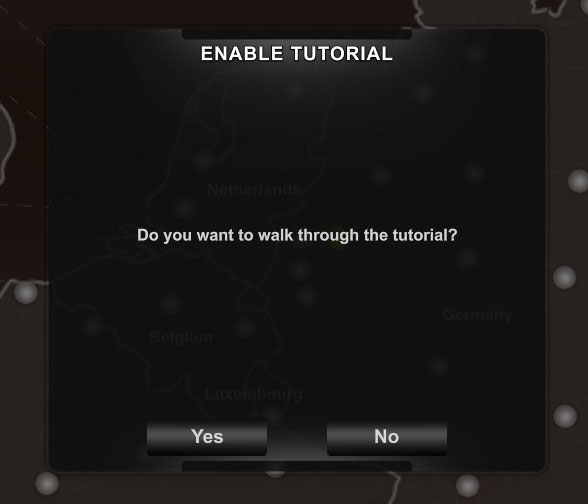 You can enable the tutorial while selecting the main garage location after creating a new profile.
However, this tutorial teaches a few uncommon practices (such as navigating the dashboard by pausing and using the mouse, when most players do this using assigned keys). It also doesn't cover aspects like turning on headlights.
Nevertheless, I still believe it's worthwhile to complete because it's short and going through it is essentially just reading a few additional in-game pro-tips.
The most important keys you need for the game are:
Starting the engine (default key:

R

)
Turning on lights (default key:

L

)
Activating the left turn signal (default key:

[

)
Activating the right turn signal (default key:

]

)
Turning on navigation in case it disappears (default key:

F5

)
Opening the map (default key:

M

)
In addition, remember that under ESC, you have access to a panel where you can, for example, take on new jobs (Job Market -> Quick Job).
This knowledge should be enough to get you started in the game, even if you decided to skip the tutorial.
4. Finish your first delivery
In order to finish your first delivery:
1
Run the engine
R
and turn on the lights
L
2
Follow the route and go to your destination.
On keyboard, do this with W A S D.
If you don't see the navigation, press F5
3
Drive to the delivery location.
Then enter the green icon, stop, and choose the parking method: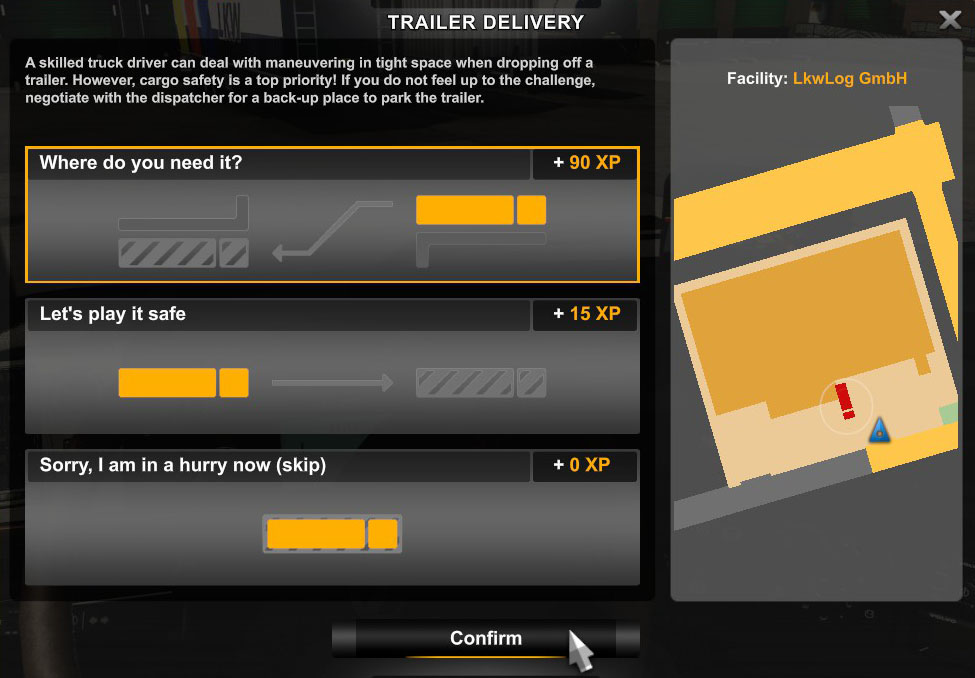 If you're up for it, don't skip this step and park manually, as it grants you a lot of XP – this is especially helpful at the beginning of the game to speed up your leveling process.
Even if you find it challenging, anytime you're next to the parking spot, you can press Enter, and the delivery will complete automatically – you just won't receive the bonus XP.
It's worth a try!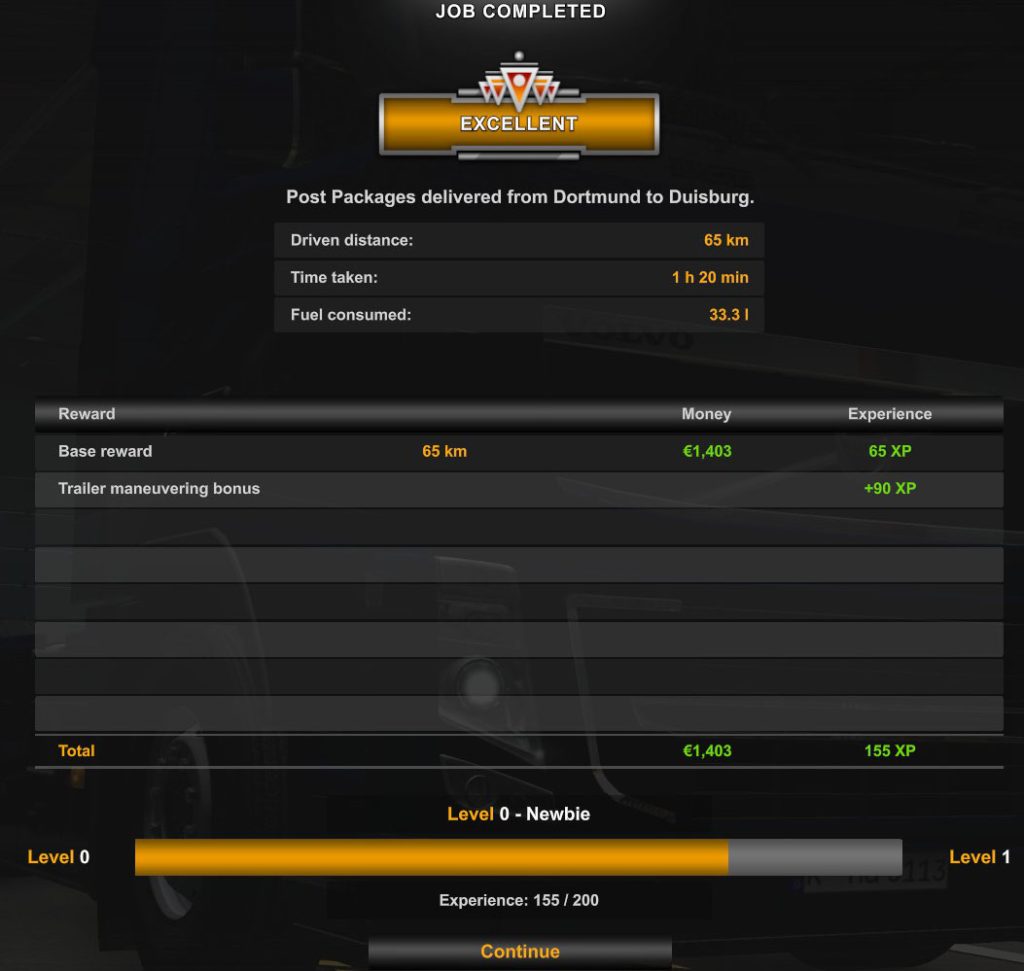 Congratulations, you've completed your first delivery!
Now, if you want to, start the next job by clicking ESC and entering Job Market.
5. Buy your First Truck
Now, I know that after one or two jobs, you might not have enough funds to buy your first truck. However, there's a good chance you've reached level 1 by now and received a message from the bank about the possibility of getting a loan.
This one is up to you, but in Euro Truck Simulator 2, it's usually a smart move (at least, as long as you're capable of driving without crashing three times during each job).

For a loan of €100,000 over 35 days, which will cover the purchase of your first truck, you'll repay it with €101,080, so it costs you €1,080.
Differences between payouts from quick jobs and Freight Market (which requires your own truck) can be as big as ~30%. These €1,080 will likely be earned back after your first delivery.

Of course, this is simplified math, as you'd also need to consider vehicle operational costs (fuel and potential repairs), but if you drive thoughtfully, you should still end up with a significant profit compared to quick jobs.
Now, once you have the money, click ESC and navigate into Truck Dealers and select the one that you want to buy a vehicle from.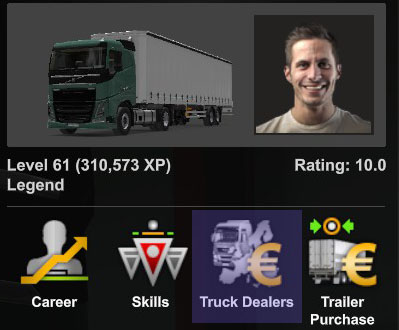 If you want a truck from a manufacturer you didn't discover yet, check our list of Truck Dealers in ETS2 and go to their location.
Before making a purchase, I encourage you to use the Customize Configuration option. It allows you to change the color, install additional GPS navigation inside the truck, and most importantly, save some money...
This way, I managed to save over €3000 on my Volvo!
To save some money you can change the color to the cheaper one, and remove unnecessary features such as extra mirrors, sun visor, or rear fender top.
6. Improve the experience
If you want to play comfortably and get the most enjoyment out of the game, I suggest you to see the following tips. They're not mandatory, but you might find them useful.
Turn off the Traffic Offence
I'm not sure if you want to follow traffic rules, but especially at the beginning of the game, they can be quite strict.
Although I personally play with the speed limiter on, and try to get the most realistic experience possible, for your own comfort and wallet's sake, I suggest playing with Traffic Offence disabled. Before turning off this option, I often received fines for driving through traffic lights that suddenly became red or through having collisions caused by AI.
To turn off the Traffic Offence:
1. Press ESC to enter the menu.
2. Go into Options -> Gameplay.
3. Turn off the Traffic Offence.

Turn on the Voice Navigation
Voice navigation makes the gameplay even easier and contributes to better immersion. While the immersion thing is quite subjective, the voice guidance helps you quickly realize upcoming route changes, preventing you from missing them.
To turn on the Voice Navigation:
1. Press ESC to enter the menu.
2. Go into Options -> Audio.
3. Turn on the Enable voice navigation option.
4. Select the Language and voice.

Improve the Immersion

Change the FOV
Sit in your truck.
Press

F4

.
Select the

Adjust seats

option.
Change the value expressed in degrees at the bottom of the window. Typically, you'll want to decrease it by around 10-15 degrees compared to the default value.
If needed, press

F4

again and use the

Adjust mirrors

option to fine-tune mirror angles for improved visibility.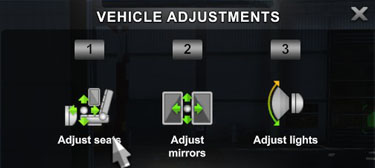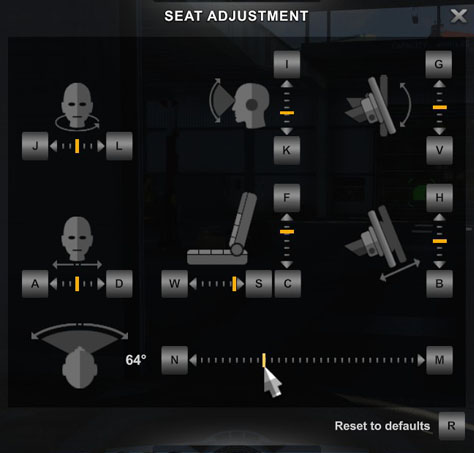 Turn off the virtual mirrors
You don't need virtual mirrors. They are quite convenient, but they don't look very realistic.
With the well-configured game, using regular mirrors should be at least as comfortable.
To turn off the virtual mirrors press F2 until the virtual mirrors completely disappear from your screen.
Turn off the dashboard
The dashboard in the lower right corner of the screen is convenient, but since you don't need to look at it all the time, it unnecessarily takes up the space and attention.
I know it's useful for tracking your route, but you can do this by installing a GPS unit in the truck's interior through the Accessories section.
This looks much more realistic and provides a better in-game experience.
To turn off the dashboard, press F3 (1 or 2 times). Anytime you need it, you can turn in on with the same button.
Use the right keybinds
Having the right keybindings can make the gameplay way more comfortable.
Here are the changes I suggest you make in the Controls. This is a configuration I've been using for years while playing on a keyboard (for a gamepad or steering wheel, you can set up something similar depending on the layout and number of available buttons).
Start/Stop Engine -

R

Left-Turn Indicator -

Q

Right-Turn Indicator -

E

Cruise Control -

Alt

Zoom interior Camera -

V

Interior Look Forward -

X

Interior Look Right-

C

Interior Look Right-

Z
I leave the rest of the keybindings unchanged.
Thanks to these settings, I can easily control the vehicle, activate turn signals, rotate the camera left and right, zoom in the interior camera (useful for mirrors while parking), and turn on the cruise control. All without moving a single hand.
These settings might take a moment to get used to, but I highly recommend them.
7. Buy your First Trailer
Once you complete the previous steps, continue taking on more jobs.
When you reach level 5 and can purchase your first trailer, I recommend doing so.
Having your own trailer unlocks access to jobs in the Cargo Market.
For higher earnings, I recommend trailers like Low Bed for transporting heavy machinery and high cargo, as well as refrigerated trailers for frozen or chilled goods.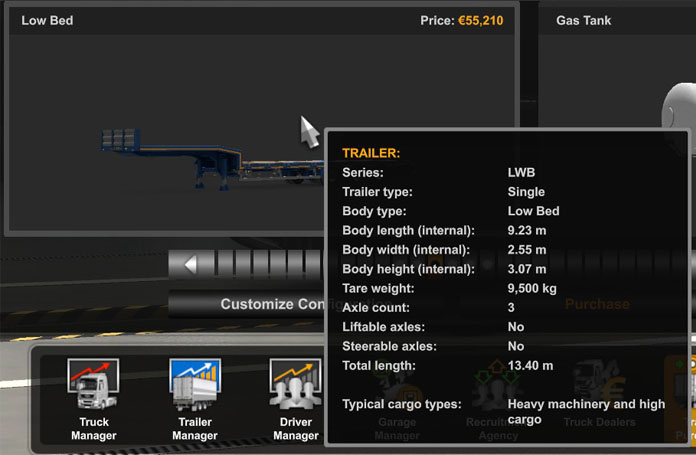 To buy a trailer:
Open the

ESC

Menu.
Open

Trailer Purchase

.
Select the trailer you're interested in and press

Purchase

, or choose

Customize Configuration

to adjust it to your preferences.
To attach a trailer:
Open the

ESC

Menu.
Open

Trailer Manager

.
Choose the trailer you want to use and press

Use

.
Open the

ESC

Menu and use

Quick Travel

to teleport to the garage where your trailer is located.