You can buy a truck in two ways:
Visit a chosen dealership.
Select a dealership and buy the truck online without visiting the location (requires owning at least 5 trucks).
Buying a Truck
In the game menu, go to the "Truck Dealers".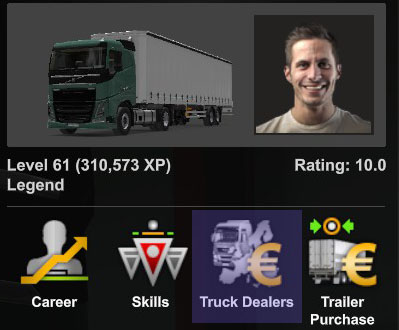 Truck icons on the map represent available dealerships. If you'd like, you can click on the logo of a specific manufacturer on the list on the left side to show only their dealerships.
Choose a dealership that suits you by clicking on the truck icon.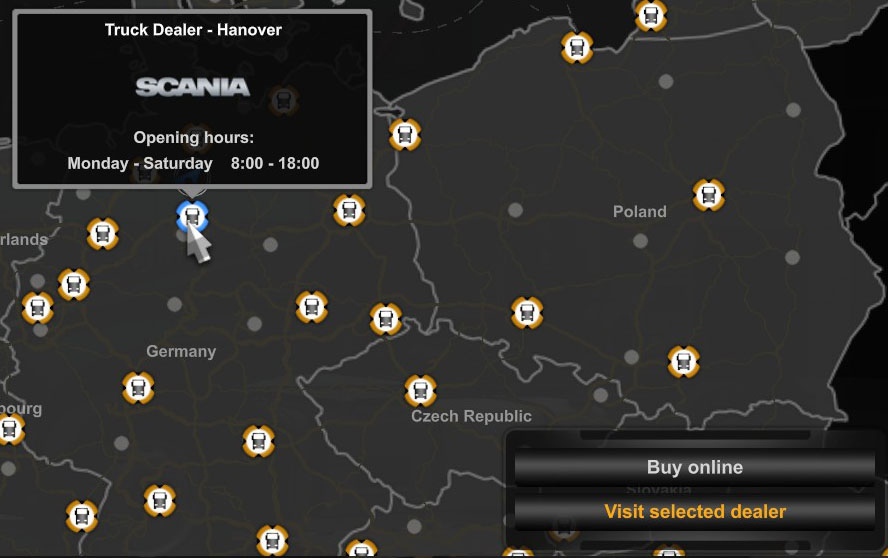 Now click "Buy online" or "Visit selected dealer" depending on which option you prefer/is available.
Before making a purchase, you can customize your truck.
To do this, select the "Customize Configuration" option.
Here it is in the dealership: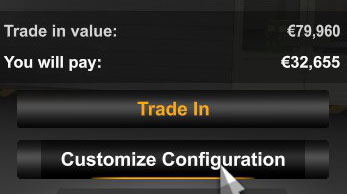 And here it is when buying online: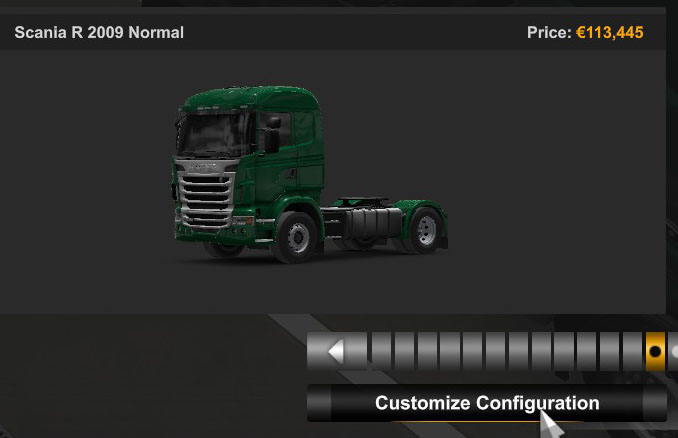 Now, you can upgrade or customize your truck.
When finished, just click Confirm and then Purchase.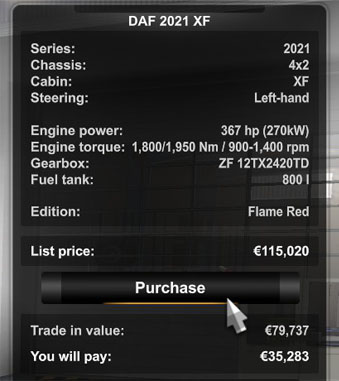 Frequently Asked Questions (FAQ)
What is the best Truck to buy in ETS2?
The best truck in ETS2 is the one that you like the most. In reality, all of them are good, and you can transport most cargoes with each of them efficiently.
If I had to recommend one truck for a beginner, I would go for the Scania R or Scania S. Both of these models are available at reasonable prices and are great for later customization and expansion.
Wondering which one is the fastest or has the best acceleration? Check that in our ranking.
Is it worth it to buy your own truck in Euro Truck Simulator?
Owning your own truck in ETS2 is highly profitable, as it allows you to take on well-paying jobs from the Freight Market and Cargo Market (for these you also need your own trailer).
In ETS2, it's worthwhile to buy your own truck as soon as possible, because the earnings from these jobs are significantly higher than those from Quick Jobs.
Can you sell your truck in ETS2?
Yes! To sell a truck, simply go to Menu -> Truck Manager -> Choose the vehicle from the list -> Sell.
It's easy, but unfortunately, the selling price is much lower than what we paid for the vehicle.
For this reason, I recommend considering purchases carefully, especially if it's your first truck, and you don't want to change it too quickly.