In this guide, you'll find answers to frequently asked questions related to trailers in Euro Truck Simulator 2.
How to use a trailer?
Once you buy your trailer, you can access it by following these steps:
Enter the menu (

ESC

).
Go into the

Trailer Manager

.
Click on the trailer you want to use.
Click

Use

or

Swap

to use it.
Go to the menu (

ESC

).
Enter

Quick Travel

.
Travel into the city where the trailer is located.
Now, your trailer should be attached to your truck. If it's not, go to the city's garage and attach it manually.
How to attach a trailer?
To attach or detach the trailer, reverse the truck toward the trailer, and press the T key.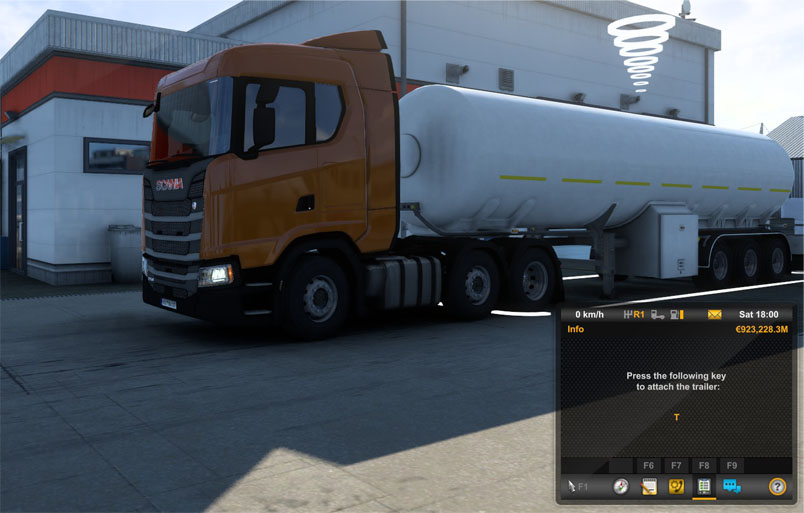 If it doesn't work, check the key assigned to Trailer Attach/Detach in your controls.
What is the best trailer for employees?
Buying trailers for your employees in Euro Truck Simulator 2 usually doesn't pay off, especially when you're just starting to build your virtual company.
It's better to focus on purchasing new garages and trucks and hiring more drivers.
In the late game, when you might have reached the maximum number of employees, buying trailers can affect earnings, but unfortunately, not always positively.
While with the most profitable trailers, your employees can earn more, they may also struggle more frequently to find available deliveries, resulting in reduced overall earnings.
How to give trailer to a driver?
It's not possible to assign a specific trailer to a particular driver in the game.
The only thing you can do is place trailers in garages that are assigned to your employees. They will occasionally use these trailers, but it's still up to them.
What is the longest trailer?
The longest trailers in the game are double trailers, which can reach up to 22.70 meters in length. These trailers include:
Refrigerated Double
Insulated Double
Dry Freighter, Moving Floor B-Double
Curtainsider Double
When it comes to the longest single trailer, it is the Low Loader trailer designed for transporting heavy machinery and high cargo. It has a length of 15 meters.